28 Mar 2018 - Gold Prices Edge Up as Dollar Heads Lower Despite Bullish GDP Data
From : https://www.investing.com/news/commodities-news/gold-prices-edge-up-as-dollar-heads-lower-despite-bullish-gdp-data-1368929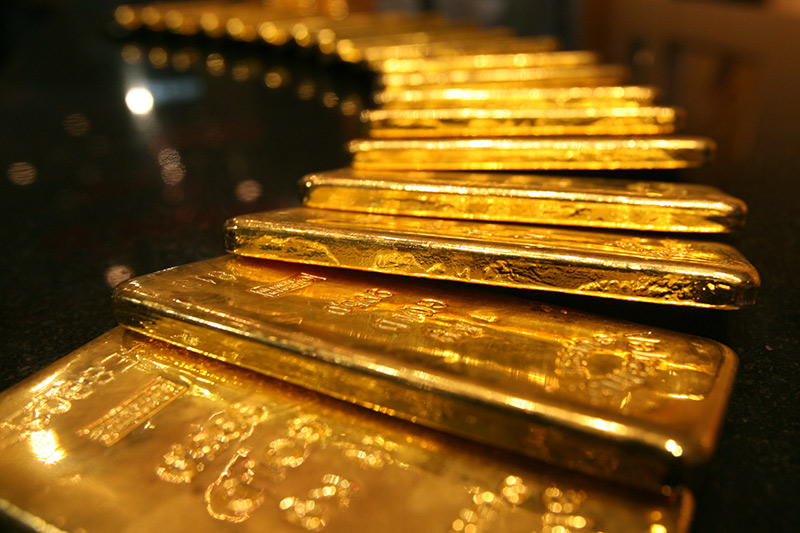 Gold prices inched up on Thursday as the dollar headed lower despite a better-than-expected GDP data. The yellow metal still hovers near a one-week low as a rebound in the dollar earlier this week sent the bullion to its biggest one-day fall in nearly nine months.
Gold futures for April delivery on the Comex division of the New York Mercantile Exchange gained $2.60, or 0.20%, to $1,326.80 a troy ounce by 12:28AM ET (04:28 GMT).
Meanwhile, the dollar headed lower in Asia on Thursday morning despite bullish GDP data as the anti-risk yen was sent higher by the rising geopolitical tensions.
The U.S. dollar index that tracks the greenback against a basket of six major currencies last stood at 89.66, down 0.11%, testing the 90 level and recovering from a one-month low at 88.59 on Tuesday.
Dollar-denominated assets such as gold are sensitive to moves in the dollar – a fall in the dollar makes gold cheaper for holders of foreign currency and thus increases demand for the precious metal.
In other precious metal trade, silver futures gained 0.23% to $16.290 a troy ounce, and platinum futures slipped 0.31% to $945.4 an ounce.
https://www.investing.com/news/commodities-news/gold-prices-edge-up-as-dollar-heads-lower-despite-bullish-gdp-data-1368929