27 Mar 2018 - Gold Prices Gain As Dollar Slip Despite Easing Trade War Fear
From : https://www.investing.com/news/commodities-news/gold-prices-gain-as-dollar-slip-despite-easing-trade-war-fear-1363500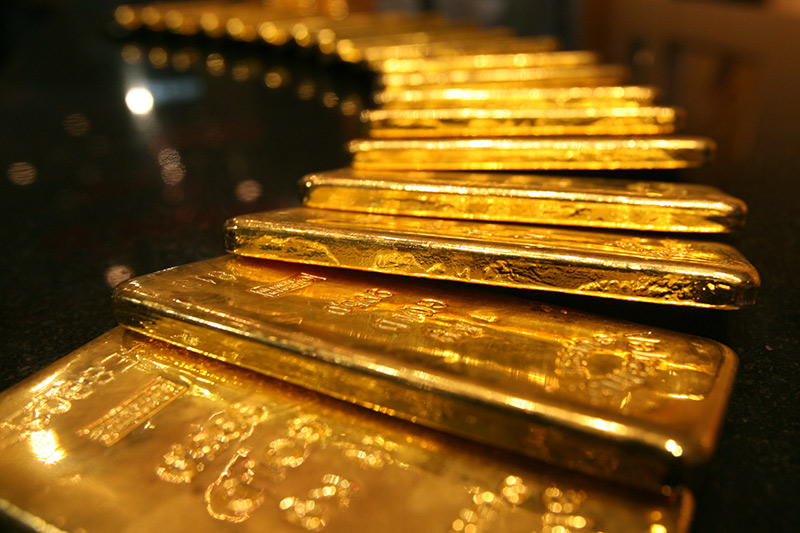 Gold prices gained on Tuesday, as the dollar gave up its earlier gains against other currencies in Asia amid receding trade tensions between the world's two largest economies after the U.S. and China hinted talks to ease fears of a full-blown trade war.
Gold futures for April delivery on the Comex division of the New York Mercantile Exchange gained $1.00, or 0.07%, to $1,356.0 a troy ounce by 2:50AM ET (06:50 GMT).

The U.S. dollar index that tracks the greenback against a basket of six major currencies last stood at 88.54, down 0.11%.
Investors regained an appetite for risky assets as China and the U.S. are reportedly in talks to find a mutually agreeable approach to narrow the trade deficit gap. U.S. Treasury Secretary Steven Mnuchin said he is "cautiously hopeful" that China would reach a deal to avoid tariffs on $50 billion of U.S. export.
Dollar-denominated assets such as gold are sensitive to moves in the dollar – a fall in the dollar makes gold cheaper for holders of foreign currency and thus increases demand for the precious metal.
In other precious metal trade, silver futures gained 0.64% to $16.790 a troy ounce, and platinum futures jumped 1.08% to $966.70 an ounce.
Meanwhile, Asian equities traded higher on Tuesday as investors took their cues from a surge on Wall Street. Japan's Nikkei closed 2.4% higher, while China's Shanghai Composite and the SZSE Component traded 0.5% and 1.5% higher respectively.
https://www.investing.com/news/commodities-news/gold-prices-gain-as-dollar-slip-despite-easing-trade-war-fear-1363500